Premier Li Keqiang called for more output in medical material in an effort to support epidemic prevention and control and the country's return to work and production.
He made the remarks while inspecting medical material production in Beijing's Haidian district on Feb 21. Premier Li is a member of the Standing Committee of the Political Bureau of the CPC Central Committee, and also head of the leading group on novel coronavirus prevention and control.
Cai Qi, secretary of the Beijing Municipal Committee of the Communist Party of China, and Chen Jining, mayor of Beijing, also attended the inspection.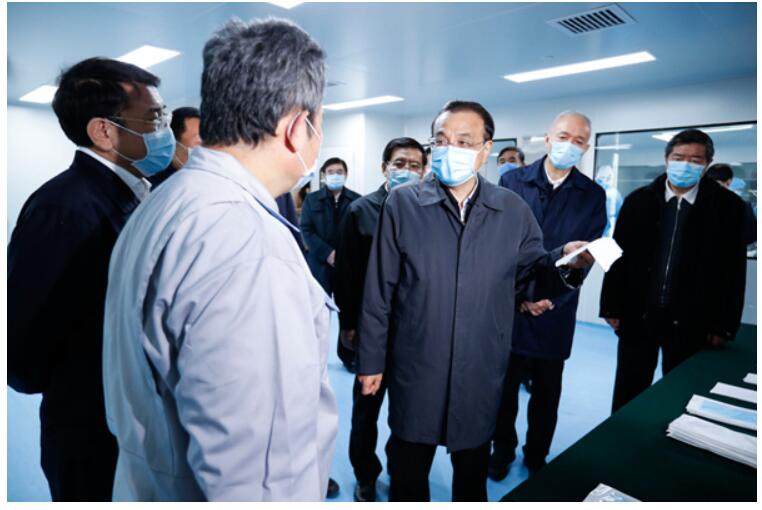 Premier Li stressed the whole nation should continue to work under the strong leadership of the CPC Central Committee with President Xi Jinping at its core. Epidemic prevention and control should be coordinated with economic and social development in accordance with the Party Central Committee and the State Council's decisions. Thus cooperation among large, medium and small-sized enterprises should be promoted, to further increase medical material output.
The Premier listened to reports on national production and supplies of medical protective clothing and masks. According to officials of relevant government agencies, capacity and output have multiplied in a short time, effectively supporting the frontline battle against the virus. In the near future, capacity will further increase, with over 100 million masks produced per day.
Premier Li acknowledged the positive progress the country has made so far. Medical supplies have strongly supported the epidemic prevention and control, which is currently in a critical period, the Premier said, adding large quantities of supplies such as masks are needed nationwide during the resumption of work and production. Because of this, Premier Li urged related departments to enhance coordination services and support enterprises to go into full production and expand capacity, thus ensuring continuing supplies of key medical materials.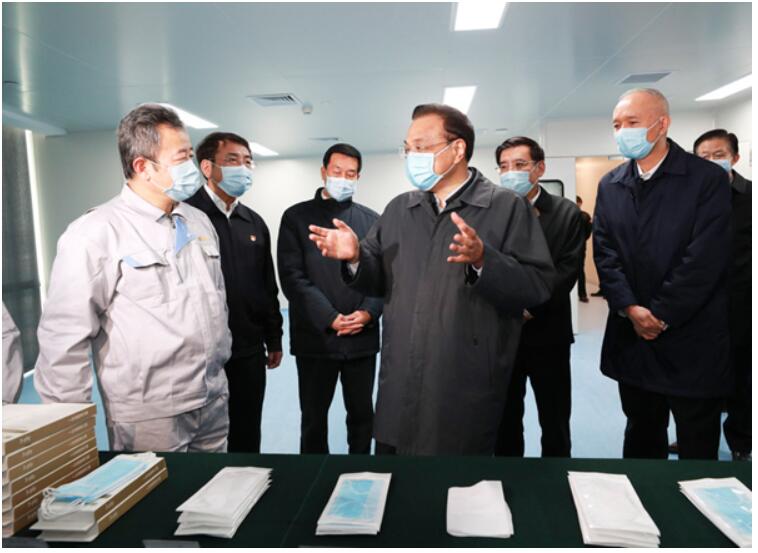 He inspected the newly launched mask production line at Natong Biotech Co, which could produce about 300,000 masks per day.
Seeing workers installing and testing new equipment, the Premier applauded Natong's efforts to expand production capacity. He also asked related departments to help provide raw materials the company needed.
The Premier urged mask manufacturers to race against the clock, speed up production and ensure product quality at the same time.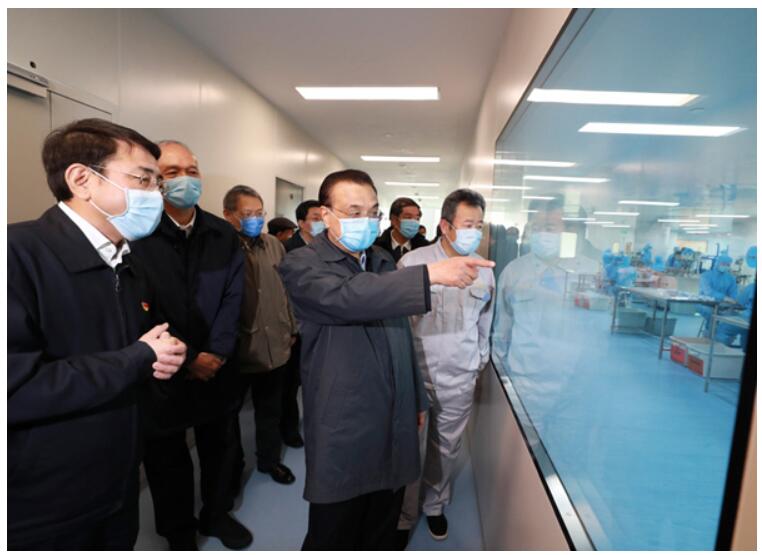 Hearing new mask materials and reusable protective masks had been developed, the Premier said these are new ways to increase the effective supply capacity of masks, and research on these subjects should be accelerated.
Related departments should enhance product testing efficiency to allow qualified products to be massively manufactured and be put into the market, the Premier said.
National mask production capacity should meet the needs of work resumption in a short time, while unreasonable use of masks should be avoided, he added.
Wang Yong, Xiao Jie and He Lifeng also joined the inspection.