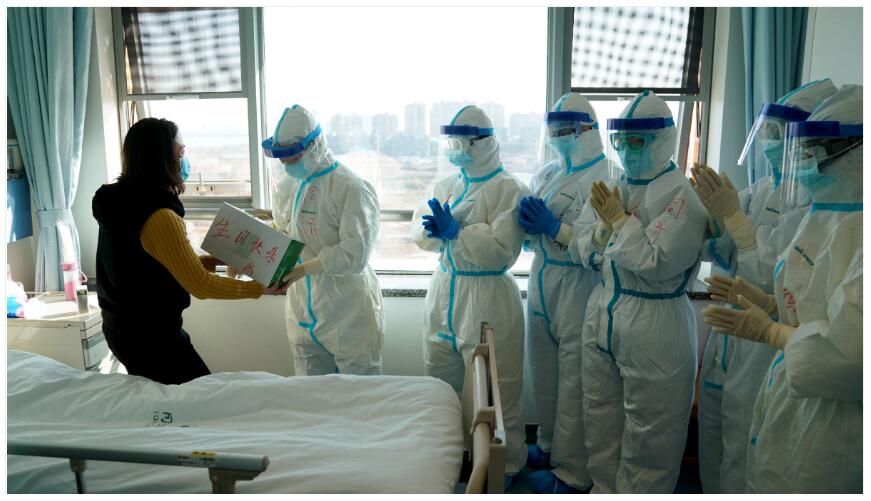 A patient surnamed Yan receives a birthday gift from medical workers after her recovery from novel coronavirus pneumonia at a hospital in Wuhan, Hubei province, on Tuesday. Yan was discharged from hospital on the same day. WANG YUGUO/XINHUA
It notes that highest-level control measures have proved effective in containing outbreak
Through joint efforts of the whole nation, China's highest-level prevention and control measures have proved quite effective, according to a report published by the Shanghai Institutes for International Studies on Feb 14.
The signs are evident. The spread of the virus is slowing down, and the diagnosis and cure rates are on a steady rise, the report said.
China is arriving at a critical moment in the war against the novel coronavirus epidemic, which the World Health Organization has named COVID-19, it said.
Statistics shows that although the absolute number of confirmed cases is still increasing, its growth rate has begun to show a downturn in China, except for Wuhan and a few other areas in Hubei province.
The impact of the novel coronavirus pneumonia on Wuhan and elsewhere in China has been increasingly contained, thanks to timely adjustments of the national strategy and measures in epidemic control, the report said.
The unceasing inflow of various national resources has been a turning point in the fight against the epidemic in Wuhan and Hubei. Besides, imported infections and subsequent spread of the virus in other regions have been under ever tighter control as a result of strengthened measures targeted at the local situations, it said.
Sparing no effort
At present, the Chinese government and society are sparing no effort in winning the war against the epidemic. Medical staff and other resources have been rushed to Wuhan from across China.
The government has asked 19 provinces or municipalities to help treat severely ill patients in a specified area in Hubei, passed laws for scientific prevention and control of the epidemic by the People's Congress in many places, instituted work-from-home arrangements, mobilized intelligence support from internet companies, and called on the public to stay home unless necessary.
"All these unconventional moves are helping China to win the race with time," said the report, which were co-authored by four experts from the SIIS, including institution's president Chen Dongxiao and Lu Chuangying, secretary general of SIIS's Research Center for International Cyberspace Governance.
China has come up with a national "pairing up support for Hubei" policy, which orders municipalities and provinces to aid 16 cities in Hubei province.
East China's Jiangsu province has sent 310 medical workers-who were summoned from 10 cities-to Huangshi, one of Hubei's hardest-hit cities, to help local hospitals. Together with Chongqing municipality, Northeast China's Heilongjiang province has been required to help the city of Xiaogan in Hubei.
Medical experts sent
As of Feb 17, more than 30,000 medical professionals have been dispatched to Hubei from rest of China, according to the Joint Prevention and Control Mechanism of the State Council.
Lu Xiang, vice-president of Nanjing Medical University and director of the Jiangsu medical team supporting Huangshi, said: "Many provinces lack medical supplies and workers, but it's our responsibility to support Hubei and its people who have been suffering greatly during the virus outbreak."
The SIIS's report said that China's prevention and control measures are taking effect.
First, statistics have shown the epidemic has been kept in check. Nationwide, except for Hubei province, the growth rates of confirmed infections, suspected cases and patients under medical observation are all on a steady decline.
On Feb 12, Hubei health authorities counted clinically diagnosed cases as confirmed, which resulted in a sharp increase in new confirmed cases according to the fifth edition of Guidelines on Novel Coronavirus Diagnosis and Treatment.
"This broadened diagnosis criteria further reflects China's enhanced diagnostic capacity and the principle of 'leaving no one unattended or under-attended'," the report said.
Nationwide, the spread of the virus has been effectively curbed.
Second, the epicenter of the outbreak has been confined to such areas as Wuhan, Xiaogan and Huanggang in Hubei, while the confirmed cases in other regions in China are relatively few and mainly imported ones. On the whole, Hubei has witnessed the majority of confirmed cases, severe cases and deaths associated with COVID-19 in China.
Third, the growth of severe cases around China is slowing down and the rehabilitation rate has surpassed the death rate.
Severe cases have been receiving utmost care. As a result, the death rate dropped from over 100 percent on Jan 20 to a negative rate of-2.17 percent on Feb 12.
Fourth, mortality caused by COVID-19 is on a steady decline. As shown by the daily ratio between accumulated deaths and severe cases, the mortality rate has been decreasing significantly in Hubei-from 40 percent on Jan 25 to 18.49 percent on Feb 12. It remains low, well below 10 percent, in other regions of China.
Fifth, with deeper understanding of the coronavirus and enhanced effectiveness of medical treatment, the number of cured patients has kept rising-from 34 by Jan 23 to 14,376 by Feb 18 nationwide.
Besides, the daily number of newly recovered novel coronavirus pneumonia patients across China has surpassed that of newly confirmed infections for the first time, according to the National Health Commission.
Figures released by the commission on Wednesday showed that 1,824 people walked out of hospital after recovery on Tuesday, higher than the same day's number of newly confirmed infections, which was 1,749.
A study paper by the Chinese Center for Disease Control and Prevention, released on Monday and published in the Chinese Journal of Epidemiology, looked at more than 44,000 confirmed cases of COVID-19 in China as of Feb 11.
Downward trend
The report suggested that the downward trend in the overall epidemic curve could mean that "isolation of whole cities, broadcast of critical information (promoting hand washing, mask wearing and care seeking) with high frequency through multiple channels, and mobilization of multisector rapid response teams is helping to curb the epidemic".
But the study also warned that with many people returning from a long holiday, the country "needs to prepare for the possible rebound of the epidemic".
"Nothing short of the most comprehensive, rigorous, and thorough measures have been taken," Chinese Foreign Minister Wang Yi told the Munich Security Conference on Sunday. "China's speed, scale and efficiency all reflect the advantage of China's system."
Xinhua contributed to this story.