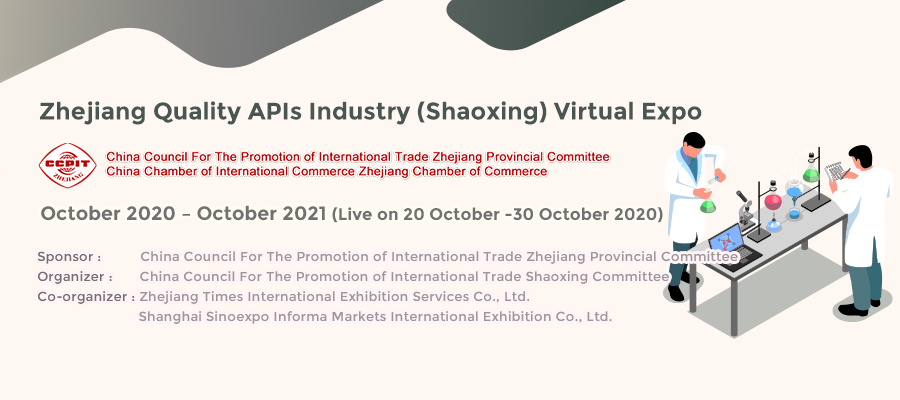 Zhejiang Quality APIs Industry (Shaoxing) Virtual Expo is now launched to welcome the participation of both pharmaceutical suppliers located in Shaoxing of Zhejiang Province of China, and global buyers online.
Jointly held by China Council for the Promotion of International Trade Zhejiang Provincial Committee and Shanghai Sinoexpo Informa Markets International Exhibition (PharmaSources.com), the Zhejiang Quality APIs Industry (Shaoxing) Virtual Expo is to facilitate ongoing and new business connections between Shaoxing and global pharma markets, helping the Shaoxing pharmaceutical companies to engage in the international trade with digital tools.
Zhejiang Province of China has business connections with more than 200 countries and regions around the world, and is the major center for product manufacturing and industrial services in the pharmaceutical industry in China. The exhibitors of the virtual expo, such as Zhejiang NHU Company Ltd., Zhejiang Jingxin Pharmaceutical Co., Ltd., and Zhejiang Medicine Co., Ltd., are renowned pharmaceutical companies, not only within Zhejiang Province, but also in China, which have been selected as "China's Top 100 Pharmaceutical Companies" for many years. Agglomerating the superior resources in the industry, and with quality API products and excellent services, "Made-in-Zhejiang Shaoxing" is going to sell well all over the world!
The virtual expo will last for 1 year until Oct,2021,and is free of charge to all pharmaceutical buyers worldwide. Meanwhile, during the virtual expo, pharmaceutical companies will enjoy one-to-one matchmaking service of video meeting and negotiating with their potential partners online through the "Cloud Meeting" function, the negotiation session is started from Oct. 20th, 2020 to Oct. 30th, 2020.
Depending on strong database of PharmaSources.com, Zhejiang Quality APIs Industry (Shaoxing) Virtual Expo provides a great online platform for global buyers to extend connections, explore opportunities to network and trade with pharma enterprises.
Genuinely, we are all here to serve the whole pharmaceutical industry!
| LIVE Now | Zhejiang Export Commodity Online Fair | Link |
| --- | --- | --- |
| | | |
| Oct. 20th, 2020 - Oct. 30th, 2020 | | |
Features Introduction
· Digital Marketplace*
Nearly 40 API Suppliers from Shaoxing China will be displayed online. Buyers can select and explore detailed supplier profiles & products online.
· Matchmaking
China Pharma Connect is the online matchmaking system, and enables suppliers and buyers to browse and search potential business partners and products, send invitations and get connected online. 

· EZSourcing
Popular products and the purchasing requirements will be posted online during the virtual expo. Buyers can submit purchasing demand and request for quotations.
· Cloud Meeting
The Cloud Meeting service enables suppliers and buyers to enjoy convenient "screen to screen" meeting with each other. Buyers can sign up and submit specific purchasing products requirement and access personalized matchmaking services to make appointments and attend one-on-one video meeting for business negotiation. Sign Up Now
Highlights
– Connect with nearly 40 Shaoxing pharmaceutical suppliers online
– Explore detailed supplier profiles & products in the digital showroom
– Post purchasing requests and get multiple quotations
– Sign up as a buyer to enjoy one-on-one video meeting for business negotiation
About PharmaSources.com
www.pharmasources.com
Rolled out in 2010 as an online trade platform serving the pharmaceutical industry, PharmaSources has been re-named and rebranded from CPhI.CN in 2020. PharmaSources connects global pharma buyers and suppliers and promotes trade and development across the pharmaceutical industry.