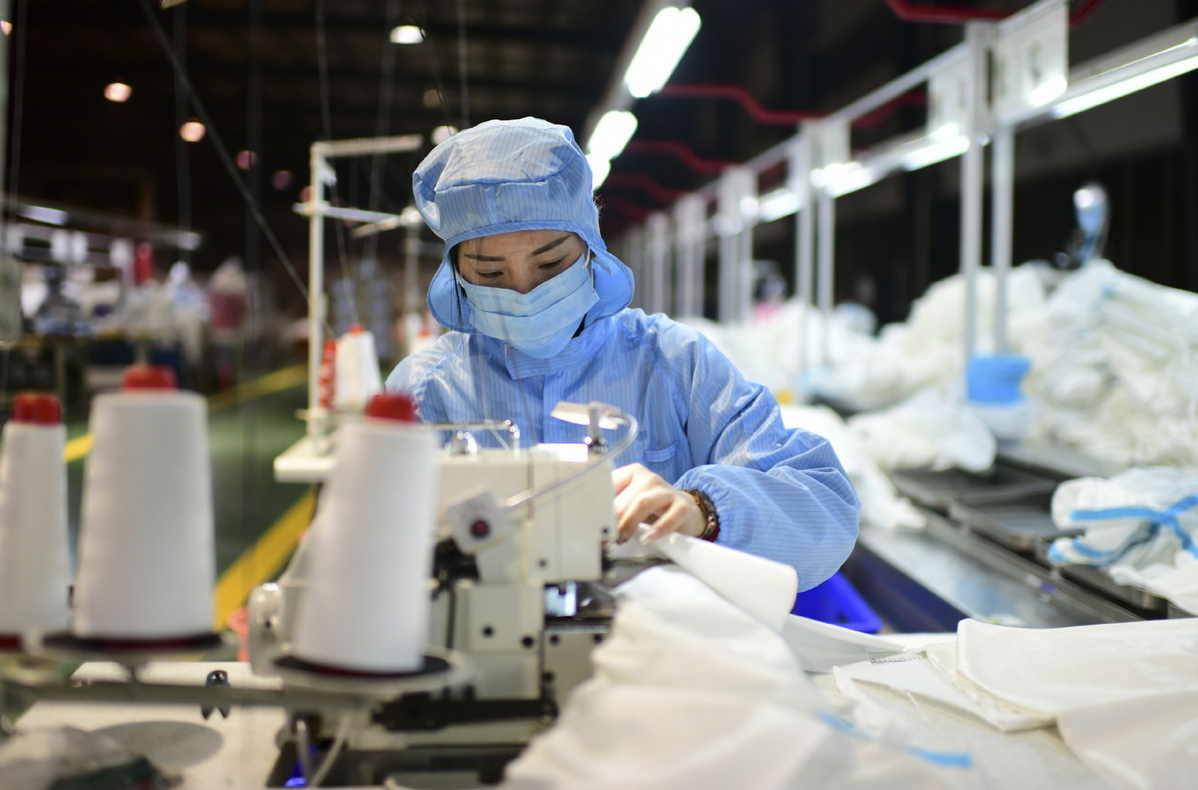 Workers produce medical shoe coverings at a company in the Bishan district of Chongqing on Feb 23, 2020. [Photo/Xinhua]
China will roll out a set of strong financial policies, including encouraging financial institutions to provisionally defer loan payments and increase lending at concessional rates for micro, small and medium-sized businesses as part of supportive efforts undertaken as they resume operations amid a difficult situation.
The steps were decided on Tuesday at the State Council's executive meeting chaired by Premier Li Keqiang.
"Statistics show that only a small percentage of micro, small and medium-sized businesses have restarted operations. As these firms are major job providers, we must give them greater support to facilitate their early resumption of work and tide them over in tough times. Such support will be further intensified for businesses in Hubei province," Li said.
Additional financial measures will be in line with market principles and the law to support micro, small and medium-sized companies in restarting operations.
For eligible firms, including household businesses faced with temporary liquidity difficulties, financial institutions will be encouraged to provisionally defer their loan principal repayments. Their interest payments can be deferred to June 30 and penalty interest payments exempted.
This policy will apply to businesses of all sizes in Hubei province.
The relending and rediscount quota will be increased by 500 billion yuan ($71 billion), with the bulk channeled to small and medium-sized banks to increase their credit support to micro, small and medium-sized businesses.
The relending rate targeting rural areas, agriculture, farmers and smaller businesses will be lowered by 25 basis points to 2.5 percent.
Before the end of June, local banks-including urban and rural commercial banks and rural credit cooperatives-that issue new inclusive loans to micro and small businesses at a rate no higher than 50 basis points above the loan prime rate, the country's de facto benchmark funding cost, will be able to apply for relending funds up to the full amount of the loan itself.
Moreover, policy banks will add a 350-billion-yuan special credit quota to be issued to eligible smaller firms at preferential rates. Guidance will be given for issuing more low-interest loans targeting household businesses.
"Household businesses, numerous and involving various sectors, have created jobs for over 200 million people. They are vital to the livelihood of tens of millions of families and the whole of society. The outbreak has hit them hard. To support their development, central and local governments should introduce well-coordinated policies and ensure full delivery on the ground," Li said.
ChinaDaily