Pharma Sources Insight August 2020 focuses on the following topics:
COVID-19
-Developments of COVID-19 diagnostic test
-Will the Bottles be Enough with the Marketing of COVID-19 Vaccine?
-Designing the Messenger: Story of the mRNA Vaccine
-Inactivated Virus Vaccines vs. mRNA Vaccines: Differences between China and the U.S. in Preferred Technologies for Developing COVID-19 Vaccines
Global News
-With Up to 18 First Generics, Hansoh Ranking Second in the Industry in China
-A Review of the Great Journey of Capecitabine that Has Been Marketed in China for 20 Years
-The Layout of Inhalation Formulations in the Chinese Market (I)
-The Layout of Inhalation Formulations in the Chinese Market (II)
Brand Story
-Oriented by Product Innovation, Dongtai Pharma Striving to Build a Global Characteristic Pharmaceutical Brand
-"Interview Changzhou Golden Bright Pharmaceutical Factory: How to achieve safe production while ensuring quality?"
Industry Insight
– Advantages to Using CROs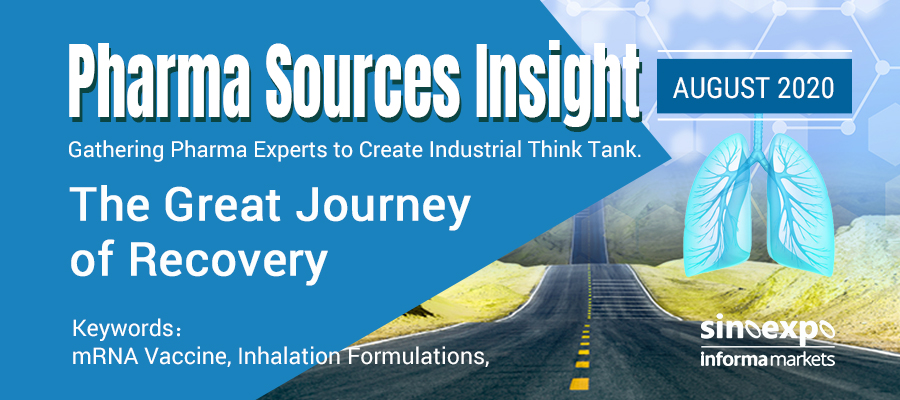 About Pharma Sources Insight
Pharma Sources Insight is a unique source of updated coverages on current events and deep insights into hot areas of the pharma industry, from China to the world. It follows up new developments with those among the leading drug-manufacturers in China which further affect the world.
Now, join PharmaSources.com to get access to news of the Chinese pharmaceutical enterprises and to witness industrial changes through the exclusive perspectives of our expert writers into crucial aspects of the pharmaceutical field, all under PharmaSources.com and CPhI China.
Click on the link or Scan the QR code to read the Pharma Sources Insight (August 2020):