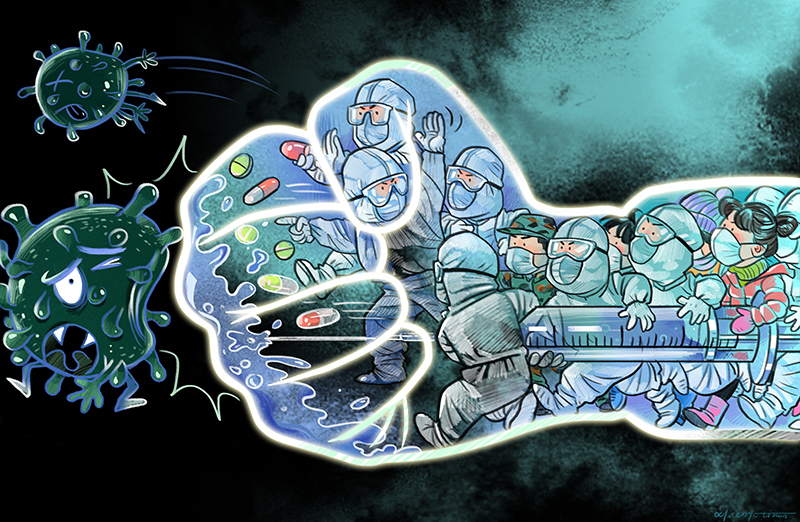 China is strengthening preventive measures to monitor incoming visitors as the novel coronavirus epidemic spreads in other countries.
Yantai, a coastal city in Shandong province, said on Wednesday that it will provide free nucleic acid tests for all travelers from abroad.
The government said those who fail the tests will be sent to designated hospitals for further examination and treatment, while those who pass will need to stay at home for strict quarantine, according to a statement issued on its website.
The measures were announced one day after five passengers were found to have abnormal body temperatures on a plane that arrived from Incheon, South Korea, at Weihai, a city neighboring Yantai. According to China Central Television, 163 passengers were on board.
The five were sent to the hospital, while the other passengers were all transported to designated hotels for quarantine.
The number of novel coronavirus cases is rising in countries such as Japan and South Korea.
Some Chinese cities, such as Weihai and Dalian, Liaoning province, have come up with special preventive measures for travelers from Japan and South Korea.
"The epidemic knows no border," Foreign Ministry spokesman Zhao Lijian said at a daily news conference on Wednesday.
Some countries have taken necessary measures to protect the health of their own citizens as well as foreigners and maintain public health security in both the region and the world. Such measures, as long as they are scientific, professional and moderate, are understandable, Zhao said.
China hopes to work with Japan and South Korea to prevent the disease from spreading, heighten management of ports and reduce unnecessary travels, Zhao said.
An important lesson that can be learned from China's efforts to contain the disease is that people should avoid going outdoors and gathering with others, Zhao said.
China, Japan and South Korea are all at a crucial stage in fighting the epidemic, Zhao said, adding that China greatly appreciates the support and assistance lent by the other two countries since the novel coronavirus outbreak and hopes to return the favor.
ChinaDaily